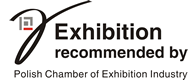 They are with us!


13.07.2017
A special zone arranged together with Master Martini which will welcome superb confectioners, enthusiasts and masters. They will make use of their skills, craft and a bit of magic changing chocolate into monoportions, modern desserts, anti-gravitational 3D cakes, whereas their pralines will leave all the visitors of Bakepol delighted, as was Juliette Binoche in the cult movie titled "Chocolate".
06.06.2017
With great pleasure we present You the changed Poznań Fair Magazine. We invite You to read both its paper and online version. In this issue we present the distinguished guests who visited Poznań International Fair in the recent months, provide reports on the spectacular construction and furniture industry fair and announce the most interesting events of the next months. And moreover…
23.04.2017
Cosmopolitan, a leading women's magazine worldwide, encourages its readers to try some new bread variations. The Bakepol fair is where new, healthy baking and confectionery blends will be presented. On top of that, working in a bakery and a confectionery shop will become easier and better adjusted to the market needs thanks to the machines and devices which will be showcased in Lublin at work.
More news
---

Modern technologies in the service of flavour!
In odd-numbered years, in a very pleasant atmosphere, representatives of the bakery and confectionery industry meet in Lublin. A characteristic feature of this event is its intimate nature which does not apply to the scope and extent of exhibition, but the specificity and unique integrity of the exhibition offer. This is a great place for the presentation of modern technologies and innovations, and live shows. Many years of experience of our customers confirm that it is worth to meet in Lublin!