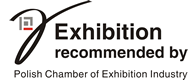 They are with us!


23.04.2017
Cosmopolitan, a leading women's magazine worldwide, encourages its readers to try some new bread variations. The Bakepol fair is where new, healthy baking and confectionery blends will be presented. On top of that, working in a bakery and a confectionery shop will become easier and better adjusted to the market needs thanks to the machines and devices which will be showcased in Lublin at work.
11.04.2017
Why is it worth registering by May 15? Because the organizer starts to carry out marketing activities once an exhibitor has registered for the fair. And the fair itself is when the several-month-long period of advertising finishes.
31.03.2017
What are the most important trends for 2017? To limit the amount of sugar, including sugar used for confectionery products, it is definitely one of them. We would like to invite you to create the Bakepol fair together with us. The fair supports the food, confectionery and ice cream sectors in implementing solutions which meet the consumers' expectations. Low prices apply until May 15!
More news
---

Modern technologies in the service of flavour!
In odd-numbered years, in a very pleasant atmosphere, representatives of the bakery and confectionery industry meet in Lublin. A characteristic feature of this event is its intimate nature which does not apply to the scope and extent of exhibition, but the specificity and unique integrity of the exhibition offer. This is a great place for the presentation of modern technologies and innovations, and live shows. Many years of experience of our customers confirm that it is worth to meet in Lublin!