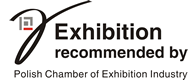 They are with us!


24.01.2017
Focused around machines and devices for the bakery and confectionery industries, mixtures, blends and components for baked products, Bakepol is the event where companies can find Polish and foreign clients who are interested in the latest market products and willing to develop their businesses.
12.01.2017
Reach for more before all the good things come to an end! Apply before January 15 and gain more benefits including a long promotional campaign at the price of the exhibition area. The organizer invites you to get in touch and get involved in creating the forthcoming edition of the Baking and Confectionery Industry Fair Bakepol, which will take place 9-12 September 2017 in Lublin.
16.12.2016
We kindly invite you to visit Poznań International Fair! Here you will find business contacts, novelties and the chance to develop your passions. In the latest issue of Poznan Fair Magazine "Exhibition calendar 2017" we present trade fair events, organized by the International Fair for almost all industries.
More news
---

Modern technologies in the service of flavour!
In odd-numbered years, in a very pleasant atmosphere, representatives of the bakery and confectionery industry meet in Lublin. A characteristic feature of this event is its intimate nature which does not apply to the scope and extent of exhibition, but the specificity and unique integrity of the exhibition offer. This is a great place for the presentation of modern technologies and innovations, and live shows. Many years of experience of our customers confirm that it is worth to meet in Lublin!