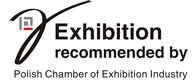 BAKEPOL IN A NUTSHELL
Presentation of the latest offer and technological solutions, fantastic business atmosphere and a chance to strengthen the market position - this is how one can characterize BAKEPOL Bakery and Confectionery Industry Fair in the shortest way. Their seventh edition will take place on September 12-14, 2019 in Krakow.

BAKEPOL Bakery and Confectionery Industry Fair will debut in Krakow. Until now, for many years, they have been held in Lublin, and earlier in Kielce. However, after thoroughly analyzing the current situation in the industry and after consulting the most convenient location with experts from the bakery and confectionery sector, the organizers decided to move the event to Krakow.

- Krakow is one of the Polish cities most strongly associated with delicious bakery and confectionery - says Joanna Jasińska, director of the BAKEPOL fair. - Being in Krakow, actually at every step we meet bakeries and pastry shops that can boast of high quality products. We also want to see this high quality as an inseparable part of BAKEPOL. Among others therefore, after consulting with industry experts and with constantly cooperating companies, we decided to carry out the seventh edition of the event in this city.

The BAKEPOL fair means:
3 days of business meetings and professional shows where specialists share their knowledge and experience;
an opportunity to test the latest machines and devices and tasting finished products;
the opportunity to see "live" whole lines of technology, as well as try the products produced on-site;
professional visitors looking for specific solutions for their production plants.
Representatives of bakery plants, confectionery and bakery-confectionary facilities constituted over 80% of visitors, whereas distributors and producers of machines for the baking and confectionery industry as well as distributors and producers of bakery and confectionery ingredients almost 10%.