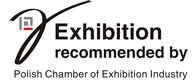 Report Bakepol 2019
Analysis of selected parameters of Bakepol 2019 - Baking and Confectionery Industry Fair
Representatives of bakery, confectionery and ice-cream industries met in Krakow during Bakepol fair, held between 12-14 September.
The event was attended by professionals from the country and abroad.
The exhibition presented the offer of 120 companies, while the demonstration zones, training sessions, discussions and "Master Baker 2019 –Bakepol" gathered dozens of experts and fans of good pastries.