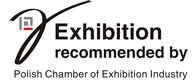 Summary Bakepol 2019
Bakepol - passion and quality build the trust of our customers!
The bakery, confectionery and ice cream industries gathered at BAKEPOL that was held in Kraków from 12 to 14 September. The event was attended by professionals from Poland and abroad. While the exhibition featured 120 companies, dozens of experts and lovers of quality baked products were involved in the organization of demonstration areas, trainings, debates as well as the 'Master Baker 2019 - Bakepol' competition.
Quality visitors
The MTP Group, which organizes annual trade fairs for the bakery, confectionery and ice cream industries (Bakepol in odd years and Polagra Tech in even years featured with the Baking and Confectionery Technology Exhibition), pays a lot of attention to the fair visitors. This time Krakow, with superbly arranged exhibitor stands, hosted representatives of the companies producing bread, sweets and ice cream, owners of bakeries and confectioneries, both large and small, restaurateurs, as well as bakery enthusiasts running online blogs. Negotiations and talks with exhibitors were attended by representatives of Inter Europol Piekarnia Szwajcarska Sp. z o.o. S. K. A., Lidl Polska Sp. z o.o., Lajkonik House of Bakery Sp. z o.o., Awiteks Sp. z o.o. Sp. k., Piekarnia Buczek sp.j. Among the visitors were also such distribution centers as APC - Back Europ Polska Sp. z o.o., Modena, Drosol, BMS-G, Bartex Kluza Sp. j. and Asprod Sp. z o.o.. In addition, Bakepol was visited by professional visitors from Ukraine, the Czech Republic, Slovakia, Moldova, Switzerland, Great Britain, Hungary, Holland, Romania and Turkey.
The atmosphere of love for superb baked products was intensified by the participation of bakers and confectioners, who make real bread in small bakeries, breakfast points and unique restaurants on a daily basis. It was the first time that Bakepol had seen the artistic dimension of baking. Apart from confectionery masterpieces, which were admired during the shows by confectioners and young students of catering schools, all the other fancy, elegant and tasty bread, rolls and baguettes looked impressive indeed. Bakery masterpieces were often signed with graphics and the signature of their maker, the baker. The Kraków's Bakepol brought together baking enthusiasts who normally excite and inspire one another on well-known bakery Facebook groups, such as Domowy Piekarz or Piekarnicza Brać.
Hobby vs. professionalism
The seventh edition of Bakepol saw more than just a new location. The fair was home to the premiere of the 'Master Baker 2019 - Bakepol' competition, held under the patronage of the Minister of Agriculture and Rural Development, whose final round was held at Expo Kraków. Dozens of professional and amateur bakers joined the two-stage competition in two categories. The following qualified for the finals. As regards the professionals, Krzysztof Bryjka, Andrzej Jacak, Paweł Tkaczuk. The amateur group consisted of Aleksandra Kozło, Matylda Kustra and Wojciech Wąsik. The Bakepol trade fair saw the participants in the final battle. In front of the audience and the jury, they baked their own bread and rolls. Bread had to stand out with its taste, unique shape, perfect selection of ingredients and production technology. As a craft product, bread need to be made in accordance with traditional baking technology or folk methods, or the so-called modernist handicraft. The winners were Matylda Kustra (Amateur) and Krzysztof Bryjka (Professional) from PASOL-PACO Bakery from Świdnica. The awards were really impressive thanks to the contribution of the Polish Ecology Associations, Polish Baking Craftsmen Associations and Partners Companies, who got actively engaged in the organization, substantive support and logistics of the competition, and who also funded many awards. Among the partners were such companies as Bionat, Cheman, Debic, Ecoaza Młyny Wodne, Friesland Campina, Ibis, Instytut Sadkiewicza, Korzeniewscy, Lovely Stencils.com, Marxam Project, MK Komi, Mistrz Branży, Młyn Niedźwiady, Mockmill, Olandia, Polskie Młyny, Sądecki Bartnik, Szkoła Artystyczna Wiesław Kucia, Wiesheu, Willa Scandia.
The competition proved that a professional baker does not have to or should not stand in opposition to an amateur baker. Both groups were very supportive during the trade fair as they inspired one another and shared their experiences. Czesław Meus, master baker and confectioner, and Piotr Połomski, home baker, founder and moderator of the Facebook group Domowy Piekarz (Home Baker), were the good souls of the event.
Personality Fair
For the Bakepol 2019 trade fair, the MTP Group invited absolutely unique personalities from the bakery and confectionery sectors. Every day, confectioners had an opportunity to watch demonstrations and presentations of master Michał Doroszkiewicz. Being one of the most successful Polish confectioners, junior world champion, participant and judge of many competitions, Michał Doroszkiewicz has a vast professional and coaching experience. Thanks to this artist confectioner, who meticulously prepared confectionery works of art, the audience learnt not only the craftsmanship and skills, but they could above all acquire his passion and great knowledge about confectionery.
Another person to have demonstrated passion and complete dedication to craftsmanship, as it is his everyday work, was bio-baker Bogdan Smolorz. This great promoter of the profession, teacher and baker, who has already become an icon of organic and craft baking across Poland, hared his modest opinion of the beautiful profession of a baker. He talked about his journey towards organic baking and how he understands the word 'bio', i.e taking absolute responsibility for every ingredient that is added to bakery products.
Aside from love of craftsmanship, each of the inspiring bakery and confectionery personalities who visited Bakepol and gave their lectures is characterized by superb knowledge and awareness of conducting detailed and extensive research. A lot of support in this space was given by dr. Józef Sadkiewicz, who together with his Institute created a center of comprehensive knowledge not only about products, the need to study the soil where crops grow and seeds themselves, but also about the processes that take place in the human body as well as what and when affects the health of the consumer. The lectures given by the expert who boasts lots of hands-on experience in cereal, milling, baking and culinary industries enjoyed great popularity.
For the entire 20 hours, the Master Zone fair was full of bakery and confectionery life. The zone was filled with lovely smells of freshly baked bread and chocolate pralines. Additionally, the smell of healthy pizza lured people not only to taste it, but also it got them to think about taste of their own bakery and confectionery products. The Saturday's meeting with bloggers, including Tasteaway, that became a kind of a recipe for bakers and confectioners on how to develop business offerings that customers will be looking for, was the cherry on top of the cake. That should include courage to learn the new, going out to the world, crossing borders, being aware of responsible nutrition and understanding of the diversity amongst consumers, but also the quality that they expect.
The MTP Group already invites you to another great meeting of the sector that will be held during the next Polagra trade fair, September 28 to October 1, 2020.
See you in Poznań!