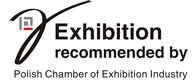 Manual fo exhinitors: stand construction, technical services e.t.c.
Dear Exhibitors!
Bakepol 2019 in Krakow is getting closer! The following e-mail contains useful information on this stage of preparation.
• Exhibition address
EXPO Kraków, ul. Galicyjska 9, 31-586 Krakow
• Stand construction, acceptance of the stand design, form C, declaration of the construction contractor
The standard structure height, measured from the floor, is 2.5m.
For stand structures, free-standing components, advertisements, decorations, etc. of non-standard height above 2.5m, the design must be accompanied by a statement by an authorised person that the static and strength calculations of these structures have been performed correctly.
It is forbidden to erect a continuous and complete construction exceeding 40% length of the communication route side with the stands of other exhibitors located on the other side.
Exhibitors are required to complete Form C to indicate the stand builder and payer of the waste collection fee - documents are attached.
Exhibitors (or stand builder on behalf of the exhibitor) are required to send us the stand construction design and obtain a confirmation of the project.
Stand designs, form C and statement please send to Mr.Andrzej Król:
tel. +48 601 568 060
e-mail: hala.arena@grupamtp.pl
• Assembly and dismantling periods
Assembly: 09-11.09.2019
Dismantling: 14.09 from 16.00 - 15.09.2019 to 22.00
Opening hours of pavilions and fairgrounds: 8.00 to 22.00.
WARNING! On 15.09, the pavilion must be absolutely left until 22.00. It is not possible to extend the dismantling. If you expect any problems in this matter, please arrange the storage conditions for exhibits or machines with our official forwarder.
TRANSMEBLE forwarder - Adam Mazowieckie tel. 530 742 161, e-mail: adam@transmeble.com.pl
• Technical services
We would like to remind you that the deadline for submitting orders for technical services is approaching – 9th August (inclusive). Orders placed after deadline do not guarantee the performance of services, and their price increases by as much as 100%. Please order technical services through the Exhibitor's Zone. If you have questions, please contact the technical services section directly:
Tel: +48 61 869 23 33
Email: tech@mtp.pl
• Permanent entry card
Please be advised that you can purchase a permanent entry card in the Exhibitor's Zone for PLN 70. The card is only available in the Exhibitor's Zone and it entitles you to enter by a car on all days of the fair. The number of permanent entry cards is limited! At the car park it will be possible to buy a single entry card for PLN 20. A single entry card entitles you to enter once.
• Exhibitor cards and invitations to visit
In the Exhibitor's Zone, exhibitor cards and invitations for trade fair visitors are now available to download in the 'Documents to download' box. We encourage you to pass on invitations to your clients at meetings, to send them by email or by post.
• News, catalog
We remind you of the additional possibilities of promoting products that you can find in the Exhibitor's Zone.
The added information will appear on our websites and it's free of charge: submission of new products, catalogue entry, internet product entry.
• Payments
We remind you to pay the fees. The condition of making the space available to you is payment of the application fee and 100% of the value of the ordered space. In the Exhibitor's Zone there are pro-forms informing about the amount to be paid and pro-forms supplementing the remaining amounts due.
SPECIFIC PROVISIONS TERMS OF THE PARTICIPATION
If you have any questions or concerns - please contact us!