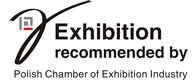 Thank you!
Bakepol fair in Krakow was a three-day event filled with the taste of the most delicious bakery products. The fair was attended not only by professional bakers and confectioners or managers of bakeries and patisseries, but also by those who love good bread and bake delicious bread at home.
We thank our exhibitors for preparing professional and visitor-friendly stands and for presenting the latest offer of machinery, equipment, accessories and systems that support the production of good bakery products.
We thank our partners, who supported us substantively and operationally in organizing the demonstration zones and the entire, rich program of events. They were with us for several months and intense weeks before the fair and they contributed very positively to Bakepol fair.
We also thank all professionals, who visited the event in Krakow, for their active participation in competitions and shows, hoping that it will be a real inspiration for them.
We invite you to Grand Polagra 2020!